Submitted by

save frog hollow

on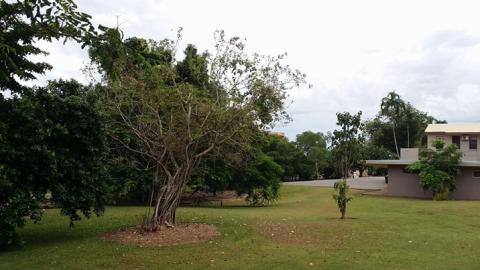 Dear Darwin People,
Barneson Boulevard is a new four-lane arterial road that will cut a swathe through the Frog Hollow arts precinct and stop dead at a new traffic light T-intersection at Woolworths in Cavenagh Street. It is considered necessary to solve "traffic congestion" in Darwin.
No parking plan is evident in the concept to deal with the diversion of traffic into the heart of the city. No consideration has been given to public transport or traffic flow management alternatives. The design of the road is flawed for cyclists, residents and commuters alike.
Wood Street will be blocked completely resulting in only two through-streets East-West in Darwin and a series of new traffic lights including the intersections with Cavenagh Street and McMinn Street. Every car leaving the city via Tiger Brennan Drive will have to stop at a traffic light intersection in order to exit onto Barneson Boulevard.
Residents and commuters in Darwin will lose lifestyle amenity, green space and cultural heritage at Frog Hollow in particular, even though we have repeatedly expressed our desire for a clean, green, tropical, cool walkable liveable city … not more asphalt and more cars
This $39.5 million road is being promoted as an iconic new entry" to Darwin, but the real reason for its construction appears to be the future development of the old Shell site north east of McMinn Street (38 McMinn Street). This land is zoned CB (Central Business) which means 90 metre height restriction (30 storeys – similar to Evolution and the Mantra Pandanus). The development of this area will expand the size of the CBD significantly.
Economic recovery of the CBD is desperately needed but supporting a central CBD area twice the size of the current CBD will be detrimental for Darwin. CBD investment for viability would need to double from its current level and require significant population growth. This is not a prospect for the short to medium term.
The opportunity now is to provide cool, green, shaded areas with parking at the city perimeter and public transport options that WILL encourage people into Darwin city. We have asked Minister Manson that this project be delayed so a more suitable tropical solution can be developed.
The road is a joint project of the NT Government, the City of Darwin council and the Australian Government. Here is the link to the Department of Infrastructure, Planning and Logistics (DIPL) website where you can view the project proposal and the community consultation report:
https://dipl.nt.gov.au/transport/transport-strategies-and-plans/major-projects/barneson-boulevard